What everyone is wondering
Frequently asked questions
Photography
What camera do I need for Northern lights photography?
---
There are several different cameras and types to choose from, and this is just a general walkthrough. For a full article on northern lights photography go to our blog. For daylight photography all cameras sold today are sufficient. Ranging from small compacts as low as 50 euros, to the big DSLR cameras that can get just as expensive as you want. And nowadays most people allready have a very good camera in your pocket - your mobile phone. For low light photography and northern lights photography, the more money you throw at it is usually better, but you don´t need a 5000 euro Leica camera to get decent pictures. The main thing you have to look for is a camera where you are able to control the settings manually - this is because you are going to shoot in an environment most cameras are not used to, and you will have to tell your camera what to do. Ask your retailer, the manual settings are usually marked by the letter M on the settings wheel on the camera housing. The small compact cameras are better left at home. The menus rarely allow for manual settings, and if they do have manual settings they usually have limitations on shutter speed, ISO and aperture. With small sensors you also need a lot of light, meaning that even on good days you will have to use very long exposure times. Again, some of the mobile phones sold in the last couple of years are actually gonna give you nice pictures on nights when the lights are reasonably strong. Two of the models I have tried myself, and that gave me very good pictures are the iPhone 11 PRO and the Huawei P30 PRO - but there are probably also others out there. Bridge- /fixed lens cameras are another category where the camera is usually very versatile with its zoom capabilities ranging from very wide to very long. Some of these models are good for northern lights photography, but in our experience, many of the models have menu systems that limit how you set the camera manually. Some of our guests travel with GoPro cameras, and we have seen good results using the night-/low light mode both for pictures and timelapse. In weak lights, this camera will also have its limitations. The battery capacity beeing a very big issue in cold weather conditions. DSLR or mirrorless cameras in the same category are normally the best cameras for low light photography. They give you full control in manual settings and have big sensors allowing for short exposures even in situations where the lights are not strong. The challenge is of course that you need some practice to operate them. For years we have been using a Nikon D750 with the 14-24mm lens, and we are very happy with image quality and battery capacity in cold weather. The camera only does 50% of the work, remember to practice before you get up north.
---
Tips & Tricks for northern lights photography
---
Our blogpost on nothern lights photography covers some of the tips & tricks that are nice to know about. In short: - Bring tripod - Bring extra battery, keep it warm when out. - Bring wide ange low aperture lense (f2,8 and lower is good). - Remove strap/stuff that work as "sails"when outdoors. - Bring cable for thethered exposures if you have one - The Kp is not always the most important measure of NL activity - Learn your camera. Everything is harder in a cold and dark environment - Be careful with light, you need your nightvision. Turn of flash! - Be patience and lower expectations Good luck!
---
---
Northern lights
What are the northern lights?
---
The Northern lights or Aurora Borealis brings thousand of guests to Tromsø each year. As one of the best places in the world to see this spectacle, we are fortunate to have both an international size airport, an ice free harbor, and a lot of roads. Right now we can´t seem to have enough places for the guests to sleep - even though most don´t (sleep). The northern lights originate in a complicated interplay between the so-called solar wind and the earth`s magnetic field - processes we still don´t know everything about. A number of solar wind particles are trapped in the earth`s magnetic field and, together with particles which originate in the earth`s atmosphere, end up in the tail of the magnetic field on the night side of the earth. The spectral lines reflect which gases are found up in the atmosphere - oxygen and nitrogen.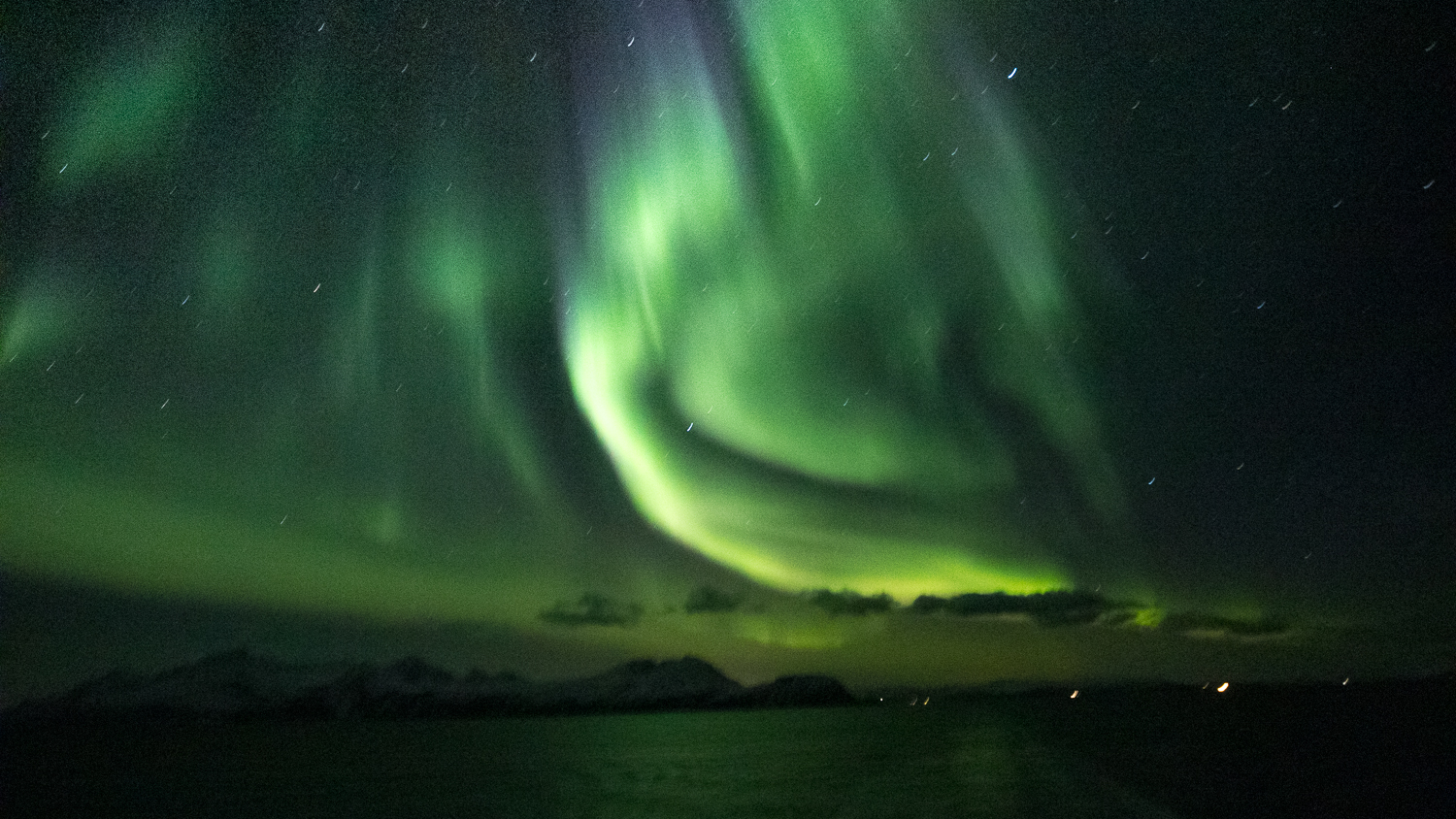 Since the northern lights happen far above cloud cover, and is dependent on solar activity, it is difficult to predict when and where it will appear. During the winter time we normally get to see auroras every other day on average, but climate change is making the arctic climate both more wet and milder - witch means more clouds. Mobile phone applications like "AuroraNow" and "Aurora Fcst" can be helpful tools when you know how to use them. Just don´t take the Kp index to serious when you are visiting Tromsø as we are straight under the oval, and only need a Kp of between 1-2 to have nice lights. Read more about the northern lights at http://geo.phys.uit.no/articl/theaurora.html or in our blog.
---
Where can I see the northern lights?
---
The Northern Lights appear in the 'Aurora Zone' or 'Aurora Oval" which is a belt centered around the magnetic North Pole. The 'zone' includes Northern Scandinavia, and in Tromsø we are luckily located in the middle of the Aurora zone, which gives us a high chance to see the lights.
More scientific the northern lights appear anywhere with a magnetic latitude above 55° and the lower the light pollution the better. For the best chance consider a spot within 65° to 75° north - Tromsø is situated at 69°. The Kp index found in most northern lights forecast applications indicates the with of the oval, meaning that on high Kp´s the lights are visible both far north and south of the "sweet spot". There are stories telling guests that you can´t see the lights on an 11-year cycle. This is simply not true! Even though the northern lights activity is closely connected to the activity on the sun, it is not possible to turn it off.
---
When can I see the northern lights?
---
The northern lights season lasts from September 1st to April 1st. On some occations it is also possible to see the lights from the 20th og August and all the way to the 10th of April if the activity is strong. The aurora and the sunset together are a really wonderful spectacle if you are lucky.
The best time during the day is from about 19:00 (7pm) to 23:00 (11pm). This is however not exact, and dependent on the strength of the lights. On some days from as early as 17:00 (5pm) allready, and all the way in to late nights at 03:00 (3am). Patience is the word of the day - bring warm clothes, something to sit on and coffee.
---
What do I need to bring on an excursion?
---
The excursion pages found on our homepage will always be updated with the essentials that you have to bring with you. It is of course dependent on the weather, season and type of excursion. Basically always bring a bottle of water, proper clothing and something to change into if you get sweaty, good shoes and a weather proof jacket.
If you need appropriate mittens and socks you can get something sustainable and supporte local businesses by getting it from our webshop. Also check out our blogpost on how to dress. If you have any questions do not hesitate to get in contact with us at booking@arcticmoments.com or on Facebook.
---
---
Tromsø & our excursions
How do I dress for the Arctic?
---
Basically, dress in layers. 3-4 should be enough for an evening out north of the Arctic circle. The layer against your skin should be wool. Silk and synthetic will also work, but Merino is our favorite. Avoid cotton - it will not dry if you get sweaty, and is not warm when dry. We use wool from producers Aclima or Devold. It is possible to do two inner layers on extra cold days, for example, mesh-wool and a normal wool sweater. The idea is to transport moisture from the skin before you get cold - this is especially important if moving, e.g. getting warm. The mid-layer should be a thicker sweater or jacket made from for example wool or down - something that is warm enough to keep the heat in. We try to stay away from fleece - not because it is not warm, but because it is made from plastic. Fleece around the bonfire can be a bad idea. The outer layer should be wind and waterproof. A gore-tex jacket and some insulated ski pants are normally enough. If you have a big down jacket that will fit over everything you will stay warm on even the coldest days. What about gloves and mittens? It is a great idea to bring at least one pair, maybe even two pairs when staying outdoors in the north. It can be wet and windy, and it is hard to get your hands warm once they have gone 'cold'. A pair of knitted wool mittens (that you can get in our shop) is not only sustainable, they normally keeps you warm the whole evening. Another possibility is to use hand-warmers, small bags with a chemical solution that gives heat to your hands and/or feet. Footwear is also important, and we don´t recommend the cheap kind, even though you are only going to use them a couple of nights. The main things to look for are a good sole and that they are waterproof. Buy them a number or two bigger than your trainers to fit thicker socks, and remember that air also insulates. You can also buy spikes, a very cheap "life" insurance. They slip on the bottom of your boots so you do not slip and fall. On your head, you put a wool hat. There is a lot to choose from - the hats and headbands from "Haddock" are local, warm, and a nice memory from Tromsø. You will get them in all the bigger sports stores. A good hat retains about 25% of body heat in an adult, up to 75% for a small child. Remember that the coast of Northern Norway is normally not that cold, with an average temperature of about -5 degrees Celsius during the winter. The biggest challenge for many guests flying in is overdressing, and as we see it, being to warm is worse than being a bit cold. A blog post on how to dress also covers the essentials.
---
What are your Terms and conditions?
---
Everyone have terms and conditions - we have some. Please go to our Terms & Conditions page to read our updated terms & conditions for our excursions. Get in touch at booking@arcticmoments.com if you have any further questions.
---
How do I get to Tromsø?
---
You reach Tromsø easiest by flight. The airport "Langnes" (TOS) is located on the west side on the Tromsø island, a short 10 minutes ride with bus or taxi from the city center. The main airlines flying in and out of Tromsø is Scandinavian Airlines, Wideroe and Norwegian Airlines. There are direct flights during the winter from several cities in Europe. If you traveling from outside Scandinavia the easiest way is often to connect in Oslo. There are no trains north of Bodø (Narvik has a connection to Sweden).
---
Where to sleep in Tromsø?
---
Tromsø is a medium-sized city in Norway, but the biggest in the north. Tromsø is also among the largest cities above the arctic circle, only beaten by two cities in Russia. This means that the hotel capacity is reasonably good, and all hotels in Tromsø have a good standard. During the main winter months it can, however, get crowded, so get your room as early as possible. A helpful hint is to try to get as close as possible to the Raddison BLU hotel, or the Scandic Ishavshotell as the main pickup point for most excursions is in this area.
To save some money on a place to stay there are also a lot of Airbnb apartments in Tromsø - about 800 at the moment. The quality may vary a bit, so make sure you choose one with good feedback. Since the Airbnb´s might be spread out all around the city also check that you don´t end up in the countryside (you might want that too - getting away from the city lights is a good idea during the winter). The distances to get into the city center might be quite far, and the busses don´t run like in the big cities in Europe. If you rent a car that is, of course, no problem, but again, check if there are parking spaces next to where you are staying - in the winter there are some challenges due to snow.
---
What are the average temperatures in Tromsø?
---
The average temperatures in Tromsø - with precipitation and wind. September: 9.6°C / 88 mm / 2.3 m/s
October: 4.5 °C / 89 mm / 2.9 m/s
November: 0.1°C / 30.3 mm / 3.8 m/s
December: 0.5°C / 235.6 mm / 4.4 m/s
January: -1.5°C / 166.2 mm / 4.9 m/s
February: -2.9°C / 108 mm / 3.6 m/s
March: -1.6°C / 148 mm / 3.7 m/s
---
How are the northern lights excursions with Arctic Moments?
---
The excursion pages found on our homepage will always be updated with the essentials that you have to bring with you. It is of course dependent on the weather, season and type of excursion. Basically always bring a bottle of water, proper clothing and something to change into if you get sweaty, good shoes and a weather proof jacket. If you need appropriate mittens and socks you can get something sustainable and supporte local businesses by getting it from our webshop.
Also check out our blogpost on how to dress. If you have any questions do not hesitate to get in contact with us at booking@arcticmoments.com or on Facebook.
---
What languages do your guides speak?
---
All our guides speak fluently norwegian and english. In our team we also speak german. English is the main language spoken on all our excursions, unless we have agreed on something else.
---
Are children allowed on the excursions?
---
The short answer is yes - children are allowed on the excursions. Depending a bit on what tour we are doing we can accomodate children as young as 5 years. Please give us a heads up if you are bringing children younger that 12 years old as we sometimes would like to make adjustments.
Our experience is however that children down to 8 years old are just as eager to do hikes as adults - they stay active so that they don´t get cold and the are able to enjoy the view just as well as adults. We don´t reccomend bringing infants on our main excursions, but booking as a group we have several suggestions that will be suitable also for parents with children younger than 5 years old.
---
What do you provide on your excursions?
---
It depends a bit on the excursion. For the shorther excursions we bring snacks. This can be everything from bisquits and chocolate, to a local soup. On longer excursions we bring a full meal and snacks. If time and the excursion type and weather permits it, we also bring firewood for a bonfire.
On all excursions we bring the proper safety- and season gear, and a camera for pictures that we share with you after the trip. Something hot to drink is included on all our hikes and northern lights safaris. On our homepage you will always find updatet information on what is included on the different types of excursions by navigating between the excursions that we offer. We do NOT bring extra clothing on our excursions. In our experience that is also not necissary. If you have further questions on equipment and gear feel free to contact us on booking@arcticmoments.com.
---
---